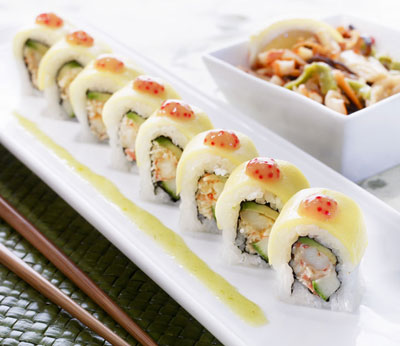 I have been interested in trying out
Noboru
-- a new Japanese sushi buffet in Montgomeryville -- for a few weeks now. So when a group of friends and I decided to try it out for lunch one day with our little kids, I was definitely excited to try it out.
Well, let me just tell you now... we all LOVED this place! It was so great for both us and the kids! Here is why:
- most importantly, the sushi was abundant and delicious! Very fresh and great!
- the amount of variation of food at the buffet was AMAZING. All of us were like kids in a candy store looking around at the wide variety of foods to try. Besides the awesome sushi and rolls, there was a huge section of hot Chinese, Japanese, and Korean food. There were tons of salads (seaweed, etc), an udon station and other soups, more typical foods like chicken, seafood, and pasta dishes, and some great dessert stations, like an ice cream/tart yogurt sundae station, cakes and cookies (all mini-sized!), and a crepe station! For dinner, they have a Hibachi station, too!
- How great is this... kids 3 and under EAT FREE!!! (and if your kids are older, prices are very reasonable and reduced -- see below for pricing) There is plenty of kid food for those kids (or adults!) that don't eat your more traditional Japanese food.
- The decor inside is nice, clean, and open. The restaurant is very large and easy to have a quick, but nice, lunch or dinner.
- Service was great! Our waiter was attentive, detailed, and very good with the 5 three-year olds that were with us.
Let's just say that I think this group of moms and kids will be making it our weekly tradition to go to Noburu since we loved it so much! You need to try it too!
Open 7 days a week for lunch and dinner:
Lunch is 11:30am-3pm
Dinner is 5pm-10pm
Price:
Lunch Mon-Fri $14.95, Sat-Sun $16.95
8-11 years: $7.95
4-7 years: $5.95
3 and under: free
Seniors (65+): 10% off
Dinner Mon-Fri $25.95, Sat-Sun $27.95
8-11 years: $13.95
4-7 years: $8.95
3 and under: free
Seniors (65+): 10% off
117 Garden Golf Blvd
North Wales, PA 19454
215-393-7100